Understanding Your Credit Report – Untangling the Jargon
When you're thinking of applying for a mortgage you are often advised to check your credit report, particularly if you have a history of poor credit. Requesting your report is generally pretty straightforward. You go online, answer a few questions and hey presto you're sent or shown your report.

However, sometimes it's not always clear what each part of the report means. At Simply Adverse we're all for making things easy to understand, so read on and discover how you can understand your credit report.
What Is A Credit Report?
Your credit report generally consists of 2 elements; your credit score and information about your financial history, together with personal information including your name, current address and date of birth. This information covers items such as bank and credit card accounts, together with lending such as loans and mortgages. You will also find information on previous addresses and any associations -in short anyone you have a financial connection with. There will also be details of any previous credit searches as well as any county court judgments, bankruptcies or IVAs.
Request Your Report
The first step is to request your report. We've used CheckMyFile, a credit reporting service that retrieves information from a UK Credit Reference Agency to generate a free credit report as part of their free 30 day trial (30-day free trial, £14.99 a month thereafter, cancel any time), but other services are available. For your report from CheckMyFile just click here.
4.95

Stars - Based on

3116

User Reviews
Understanding Your Report
Your Credit 'Score'
The first thing that you usually see on your credit report is a credit score. Bear in mind that this score is specific to whichever credit checking agency you have used. In reality no-one has one credit score. When you apply for a mortgage, lenders perform their own checks and arrive at a 'score' based on their criteria. However, any lending decision is based on the entirety of your credit file rather than a single 'score'.

The score you see in your credit report does however give you a snapshot of how healthy your credit history is. Whichever organisation you use for your credit report will provide you with a key to understand what your score means. In our example, the applicant has a credit score of 517 or 1/5.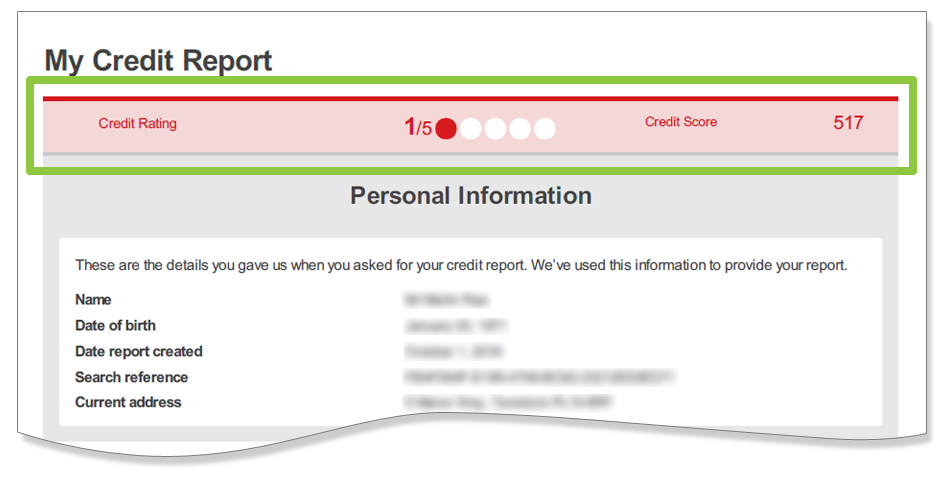 This means they have a very poor credit score.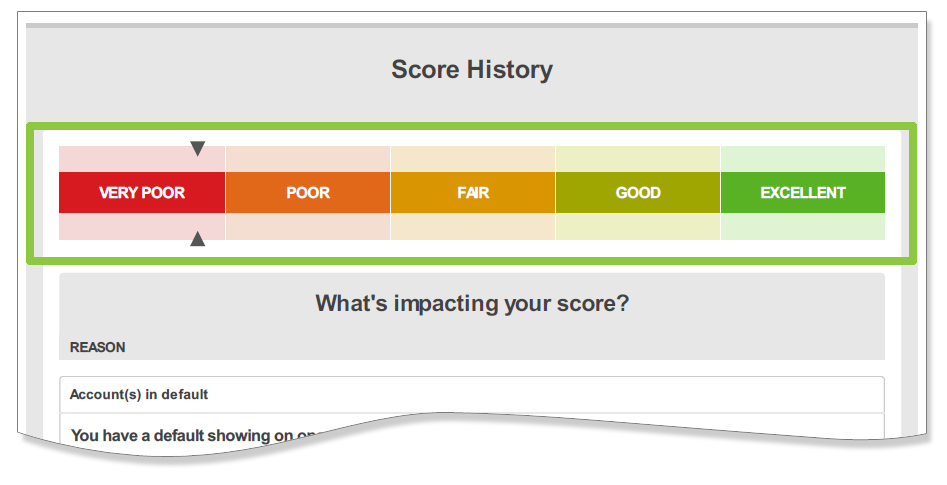 If you have a particularly low credit score there are steps you can take to increase the strength of your file, although there are no shortcuts to fixing a bad credit history.  

An accurate credit file reflecting correct full name, exact address history and a well-conducted main bank account will certainly be a step in the right direction.  The next step will be formal advice from a specialist broker such as Simply Adverse.

And remember, whilst the information within your credit file is critical, the scores that are provided are indicative at best.
Your Personal Details
It seems like an obvious one, but you should first check that your personal details are correct and consistent throughout your credit report. You should check that your address is up to date, particularly if you have recently moved to a new house.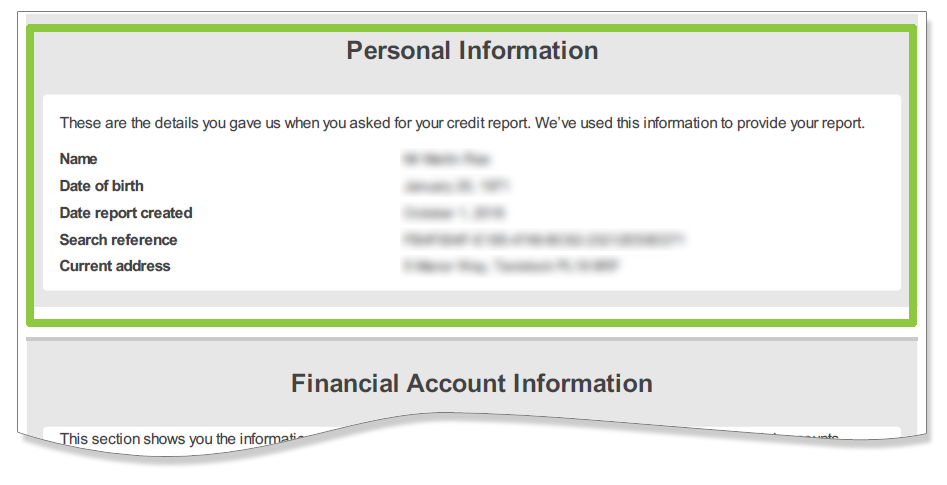 Check You Are On The Electoral Register
Your credit report will show any details that are held for you on the electoral register. Being on the electoral register will enhance your overall credit profile as it provides the lender security and helps towards automated credit profiling.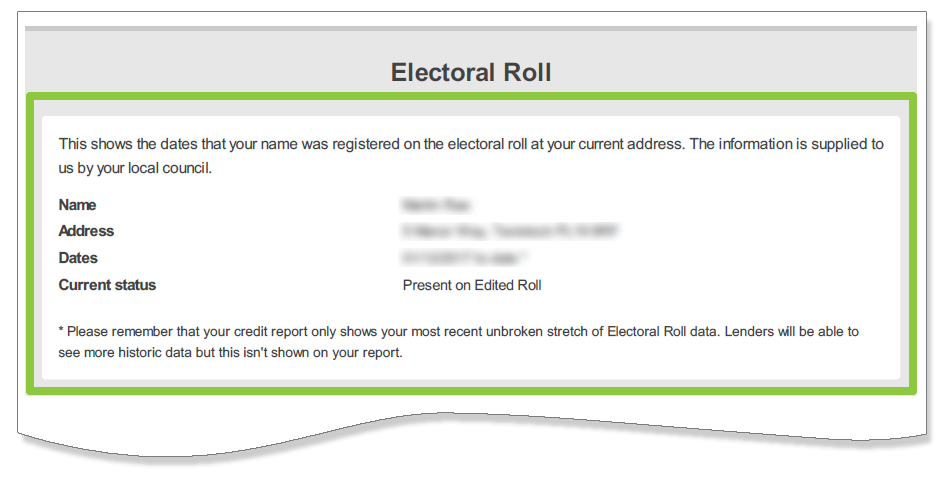 If you're not already registered to vote you can find out how to get on to the electoral register here.
Check Your Current And Past Credit Arrangements

Your credit report will show all the information about all you present credit arrangements, as well as any previous credit arrangements for the last 6 years. The type of products that you will see here include credit cards, mobile phone contracts, loans and mortgages.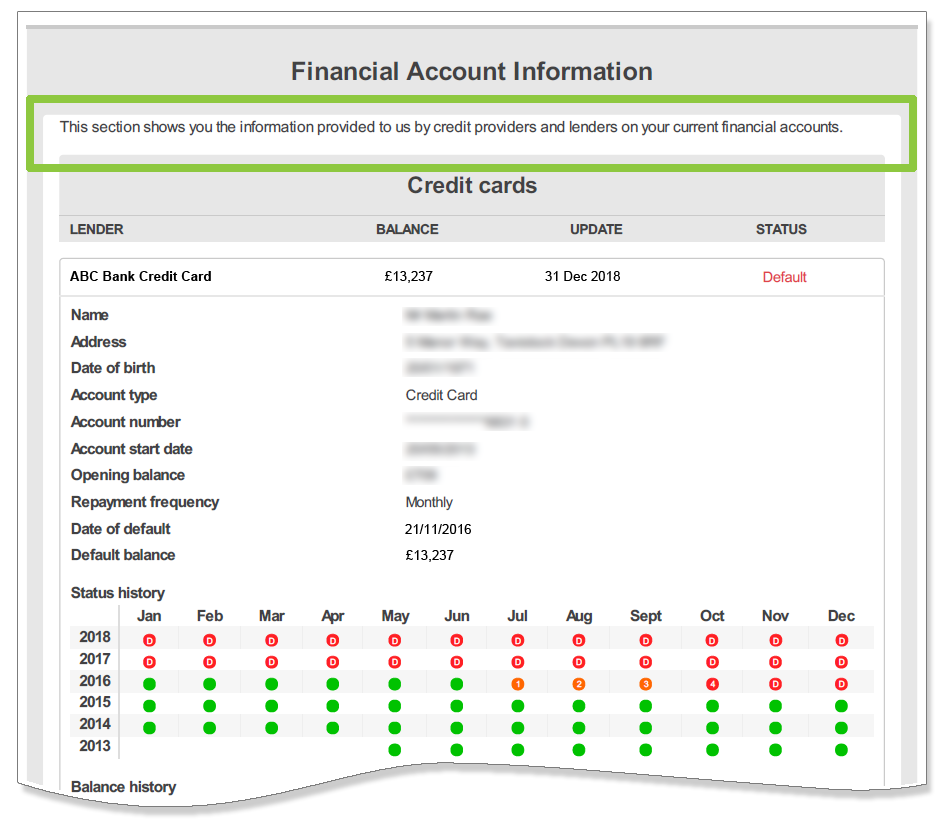 First of all, check that you recognise all of the credit arrangements and that they were all taken out by you. If you don't recognise anything, contact the lender to talk to them about ensuring your payment history is accurately reflected.
You may need to officially complain to the lender in question, although if you remain dis-satisfied you may need to present your case to the Information Commissioners Office.
You should also check whether there are any credit or store cards on your account that you no longer use. If there are, close them.
Looking at your record will also help you to see quickly whether all of your credit payments are up to date, as any late payments or defaults will appear.
Are Your Financial Associates Correct?
Your credit report will show anyone you have a financial association with. This could be someone you hold or have held a joint account with, or someone you've taken out credit with.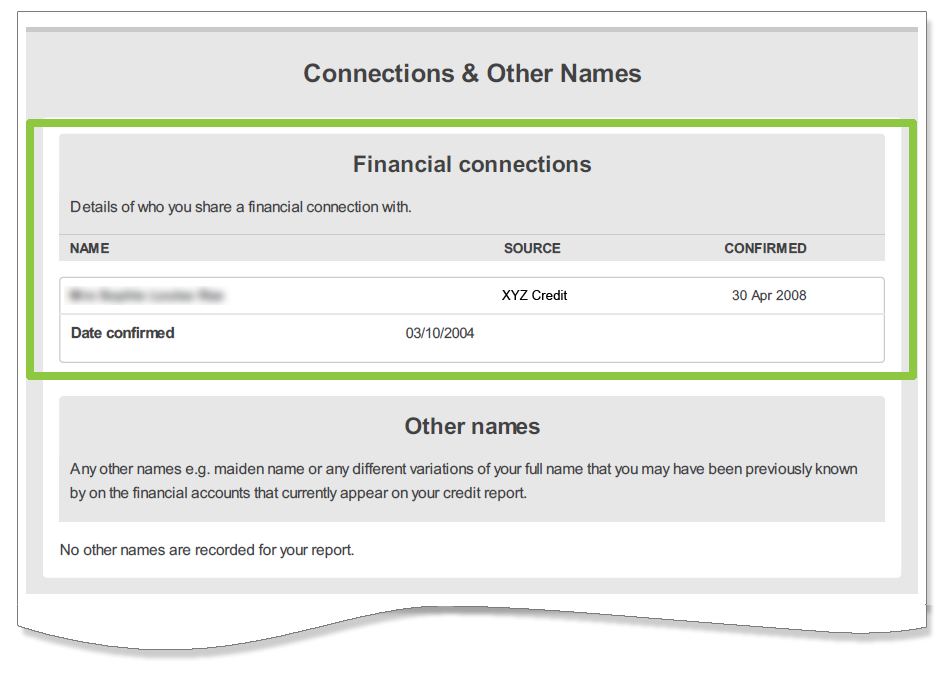 If you no longer have a financial association with anyone who appears on your credit report, for example an ex-partner who you took a loan out with but is now paid off, you can request a notice of disassociation from the UK credit reference agencies.
Check The Court Records
Your credit report will also detail any county court judgments (CCJs) or insolvencies that have been issued against you. Again, check that these are correct, as any CCJs that are settled within 30 days of the judgement should not appear and you can have them removed.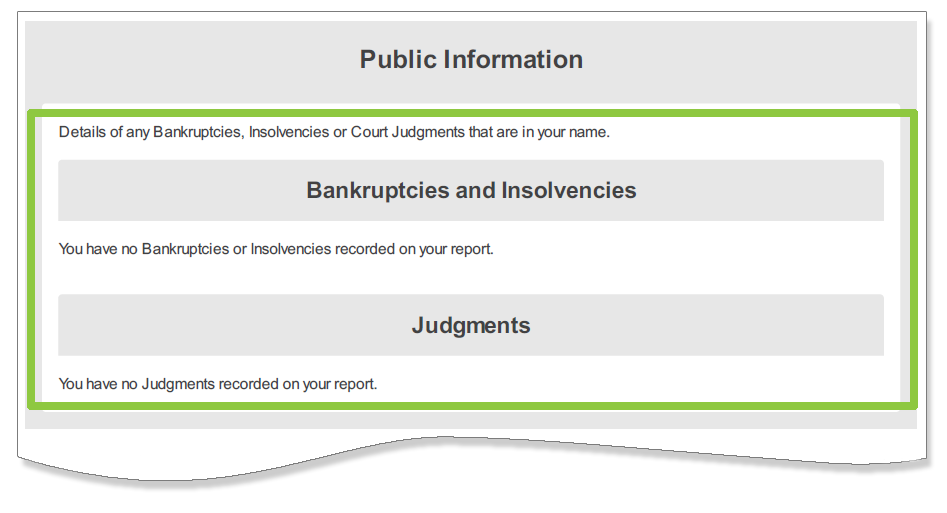 Are Their Any Other Signs Of Credit Fraud Or Identity Theft?
Your credit report offers could offer some more evidence that someone has either stolen or tried to steal your identity. Your report will show any credit checks that have been carried out even when credit was refused. Make sure that you recognise why any previous checks were taken out.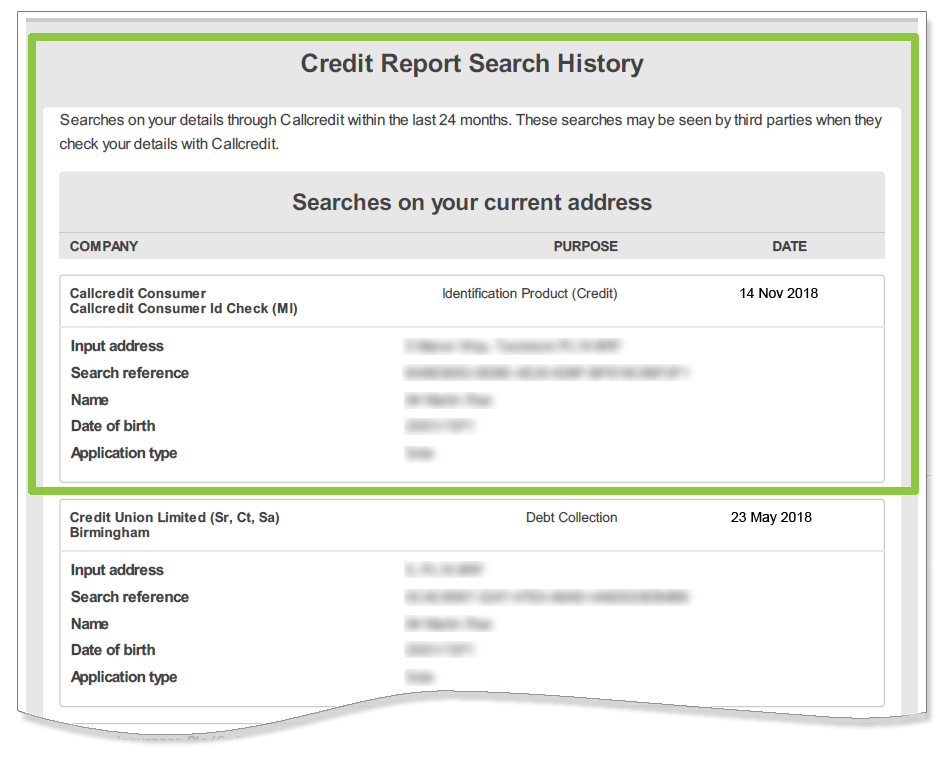 If you spot any suspicious activity on your credit report you can contact Action Fraud  as well as contacting the credit reference agency that carried out your report.  

You can also register for CIFAS, which is the UK's fraud prevention service. Registering with CIFAS means that potential lenders will be made aware that you have been a victim of identity fraud and they will take greater security measures.  
Requesting your credit file is a good way to understand how lenders will view you as a prospective borrower. As we've said they only provide an indication of the status of your credit history as lenders look at various different sources. They are also only one of the factors that lenders consider when assessing whether to give you a mortgage. Remember there are always way that you can start to repair your credit score.
‍Speaking to a professional adverse credit mortgage broker at Simply Adverse can help you to understand which lenders are the most appropriate to approach, no matter what your credit score is.
Call 

01245 330163

 For A Free Quote
Lines Open: Mon-Fri 9am-10pm and Sat/Sun 9am-5pm. Alternatively request a call back at a time convenient to you.

It's quick & easy. No credit check.