Almost Two Thirds of People Would Feel Judged If They Looked for a Bad Credit Mortgage!
Here at Simply Adverse we wanted to find out how people would feel about looking for mortgage products aimed at those who have experienced adverse credit.

We know anecdotally that some of our clients find it difficult to make the initial approach to a specialist adverse credit mortgage broker to talk about their options, but we wanted to learn more about attitudes to mortgage products for those with a poor credit history, known as 'bad credit mortgages'. We also wanted to investigate how we could help make the process of seeking advice less daunting.

To discover more we commissioned YouGov to carry out some online research. The full results of the research are available here.
Need bad credit mortgage information?
Background
At Simply Adverse we work on a daily basis with people who are ready to apply for a new mortgage or remortgage. Our clients all have some form of adverse credit, ranging from missed payments or defaults to CCJs and bankruptcy.

Many come to us after having their applications declined elsewhere. However, we also encounter people who are less eager to talk to us directly. We know these people exist as they will interact with us online, via our quiz or live chat, but don't want to go further than this.

We wanted to find a way to help everybody who is worried that their poor credit history will stand in the way of successfully applying for a mortgage, whatever stage of that journey they are at. Our feeling was that an online forum, where users could share their experiences but also receive information from professional brokers, could provide a space for those individuals who would prefer a less formal space to discuss their needs.

With this in mind we focused on looking at where people would look for a 'bad credit mortgages' and how they might feel about seeking advice and information.
What We Found
One of the most striking things that our research found was that 65% of respondents strongly agreed or tended to agree with the statement 'I would feel that I was being judged for my past financial behaviour if I looked for a mortgage or mortgage advice specifically designed for people with poor credit history'.

We know that adverse credit can happen to almost anyone, often for reasons partially or completely out of their control. We also know that no professional working in the adverse credit market would make judgments about anyone who is trying to find help. Yet we must keep in mind that this is how people do feel.

When we added that statistic to the discovery that two thirds of people would prefer to remain anonymous when they first looked for information or advice, this confirmed our belief that providing a place where people could interact without revealing their true identity, a place where they would maybe feel less 'judged', was vital to helping more people access advice and information.
Therefore, we are launching our online forum to provide a place for those people who aren't yet ready to speak to a broker on a one-to-one basis.
Why Is Our Forum Different?
We know from our research that many individuals are already using online forums, with 50% of respondents in our study indicating that they would use such a site to advice on mortgages for people with a poor credit history – more than would approach either a broker they already knew or a specialist broker.

However the anonymity that makes online forums feel safe, may also pose a problem. In particular there is no transparency about the reliability of any information given, or the background of those giving it. We wanted to address this by retaining the ability for users to talk to peers, a feature that users are familiar with, but also add an extra layer of transparent, trustworthy information given by mortgage professionals from Simply Adverse.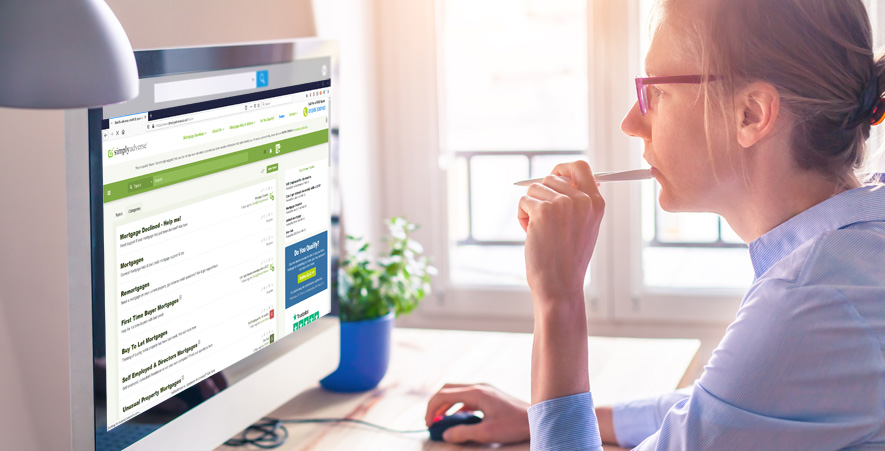 In addition to this we also intend to use the links we have with the Debt Support Trust charity, and lenders such as Bluestone to provide additional dimensions of information. The involvement of the Debt Support Trust will help those users who are still in the process of addressing any debt issues by allowing us to signpost them to the appropriate support. Plus lenders will be able to give product specific information in more detail than would otherwise be available.
Why Our Forum Is Different:
Specialist adverse/bad credit mortgage advisors replying, fully CEMAP qualified and FCA approved
Support from key specialist mortgage lenders like Bluestone Mortgages and Pepper Money
Support on debt management and debt problems from the Debt Support Trust  
4.95

Stars - Based on

3119

User Reviews
Information Not Advice
At Simply Adverse we're keen to stress that every individual case is different. That's why we're structuring our forums to let you speak to people who've been a similar situation to yourself, and to allow you to have access to the most up-to-date professional information out there about mortgages, lenders and debt management. However, if you need any tailored advice, be it on buying your first home our sorting out your finances, we will always direct you to the best place to access personal advice for your circumstances.
We'll also moderate our forums to ensure that you aren't given misleading or inaccurate advice or information by other users, setting us apart from many other online facilities.
If you're not sure whether you are ready to speak to a mortgage broker yet, log onto our forum and take the first steps towards reaching your property goal.
Got Mortgage Questions?
If you're not sure whether you are ready to speak to a mortgage broker yet, log onto our forum and take the first steps towards reaching your property goal.